One of the most rewarding careers out there is nursing. On top of being rewarding, nursing is also a fast growing career, with high demand. Indeed, if you are a nurse, you will find that you have a number of career options open to you. A registered nurse can almost always find work, since there is an increasing need for nurses in our society.
In addition to becoming a registered nurse, it is possible to get more academic training in nursing. This can include getting a bachelor of science nursing degree. While you may not see an immediate promotion by getting a BSN degree, you will put yourself in a position for better positions further on down the road. There are several programs designed to help RNs futher their career such as an RN to BSN program or LPN to BSN program. Here are some things to think about as you plan your nursing career:
Career Options for Nurses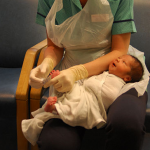 Nurses have a number of career options. Some nurses choose to practice generally, fulfilling general duties at clinics, doctors offices and hospitals. Other nurses going into special areas. These areas of specialty usually require some sort of specialized knowledge. Choosing to work in a specific area can help you become a better nurse, able to help you patients. Some of the specific areas of nursing that you can choose from for a career include:
Prenatal: Prenatal nurses help mothers care for their unborn children. Nurse midwives may also be in charge of delivery. These nurses may also assist with ultrasounds, prenatal testing and other duties related to the care of pregnant mother and unborn child.
Pediatric: As you might imagine, pediatric nurses care for children. These are nurses that help those children who are between the ages of two and 18. Pediatric nurses should be comfortable around children, and know how to connect with children and teenagers.
Infant: Some nurses specialize in infant care. These are nurses who help care for infants in nurseries, and may help new mothers. You should be comfortable working with infants.
Labor and Delivery: There are nurses who can be quite helpful during labor and delivery. L & D nurses help the mother through the labor process, providing comfort, checking on progress and providing information to the doctor. These nurses also assist in the delivery. The site of birthing should not make a nurse queasy if he or she wish to work in L & D.
Operating Theater: Surgeons need assistance in the operating room, and nurses can be adept at providing just what is needed to help a surgery proceed more smoothly and successfully.
Critical Care/ICU: Nurses trained to take care of people in critical condition are also in high demand. These nurses need to be quick thinking, and capable of working well under pressure.
Emergency Room: In the emergency room, nurses need to be able to make quick decisions and work with doctors to rapidly take care of emergency medical situations.
Gerontology: As the Baby Boomers age, there will be more room for nurses trained to care for senior citizens. Gerontology nurses know how to care for the elderly, and should be acquainted with common ailments and conditions associated with aging.
Cancer: Cancer nurses are often compassionate, and able to connect with and help patients — and their families. Cancer nursing also requires unique strength, since these nurses often have to deal with the death of patients they have come to know and like.
Injury and Rehabilitation: For those who have been injured, nurses can play a role in helping to provide comfort and heal injuries. There are also rehabilitation nurses that help the afflicted regain the use of their limbs, or learn to manage with their injuries.
In addition to these specific areas, there are a number of other opportunities in nursing. These opportunities include home care nursing, as well as travel nursing. Home care nurses are trained to help patients who are homebound. These nurses come into homes and provide necessary care and help. Travel nurses have unique opportunities to provide a wide variety of services in interesting locales. Travel nurses can fill in at clinics across the country, as well as work on cruise ships and on guided tours.
When you are a nurse, you have a number of options available to you. And you can enhance your abilities with the help of a bachelor of science nursing degree, you can increase your knowledge and open up further opportunities for advancement.
Bachelor of Science Nursing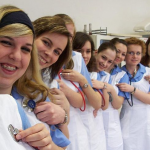 If you are looking to for a way to advance your career down the road, and be in a position to take advantage of certain opportunities that may come in your way, you can get your BSN degree. Having your bachelor of nursing degree also puts you in a position to progress to a master's in nursing degree or a Ph.D. in nursing if that is what you want to do.
Most BSN degree programs last four years, like regular bachelor degree programs. These degrees include some coursework that focuses on scientific method in research, as well as the ability to perform a number nursing tasks. If you are already a registered nurse, it is often possible to get your BSN faster, since many programs will take that into account. Also, if you are a RN, there is a good chance that you will be able to complete your bachelor degree online, since you will already have practical experience related to nursing. For example, here's an explanation of Kaplan University's nursing program:
One of the advantages of getting an online BSN if you are a RN is that there is no need to stop working in your profession. Since you can take an abbreviated course of study over the Internet, you can schedule your studies and coursework to fit around your work schedule as a RN. That way, your practical, hands on nursing skills remain sharp as you work toward your bachelor's degree.
A bachelor's of nursing degree can be a great help to any nurse. If you are interested in taking your nursing career further, you can work toward a BSN. Then, you will have a few more options open to you, and you can enjoy an even greater flexibility as a nurse.